Today Buckingham Palace and other members of the Royal Family have shared pictures of Prince Philip showing him in his role as great-grandfather, grandfather, and father.
The photo that royal watchers are really enjoying is one that we had never seen before
This is the photo royal watchers have been wanting since Louis and Lena were born. I am so glad that we got to see it.
This photo proves yet again to me that the British Royal Family is indeed a family. I was fortunate enough to come from a family with southern roots… Going to Alabama was coming home. Tons of visits with aunts, uncles, and cousins too numerous to count. One of the things that would happen during those visits is exactly what you see in this photo. When someone realized that the Great Grandparents were in the same house with ALL of the great-grandkids, someone grabbed the camera…
And here we see Catherine is the one that grabbed the camera while someone (my money is on Anne) got everyone to the couch
The Duke and Duchess also shared this picture of their family with the Queen and Duke of Edinburgh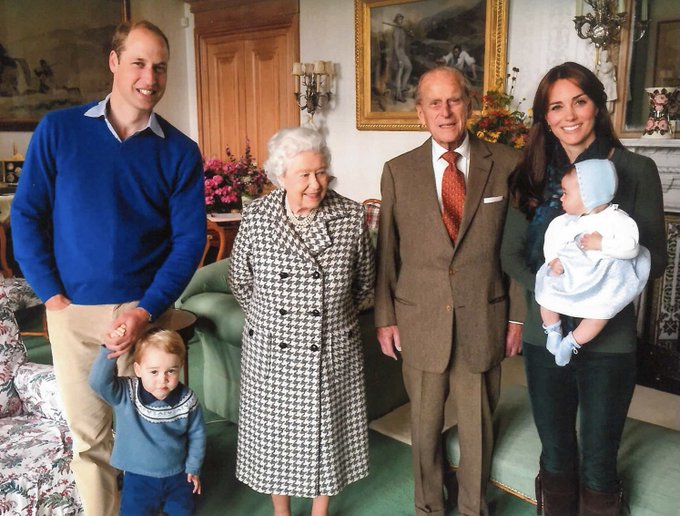 This photo was taken at Balmoral in 2015.  I love the way Her Majesty and Princess Charlotte are focused in each other and not the camera.  George looks like he is ready to take off at full speed.  Her Majesty is in Houndstooth and you know how I feel about that.  Prince Philip looks happy to have family around but he also looks as though he is thinking "take the picture, and let's get this show on the road, shall we"
Another photo that I loved seeing again today was a photo of Prince Philip and Her Majesty with the Earl and Countess of Wessex and a very young Lady Louise
Again at Balmoral, this time outdoors and showing off the family wearing the Balmoral Tartan which is reserved exclusively for members of the British Royal Family and the use of which must be approved by the Monarch.