Over the last few months The Duchess of Cambridge has been spearheading a photography project to capture life while the UK was under lockdown and otherwise combating COVID-19. She teamed up with the National Portrait Gallery where she has been Royal Patron since 2012.
Her Majesty the Queen was shown the final 100 images by Her Royal Highness the Duchess of Cambridge and sent this letter to all 100 Finalists.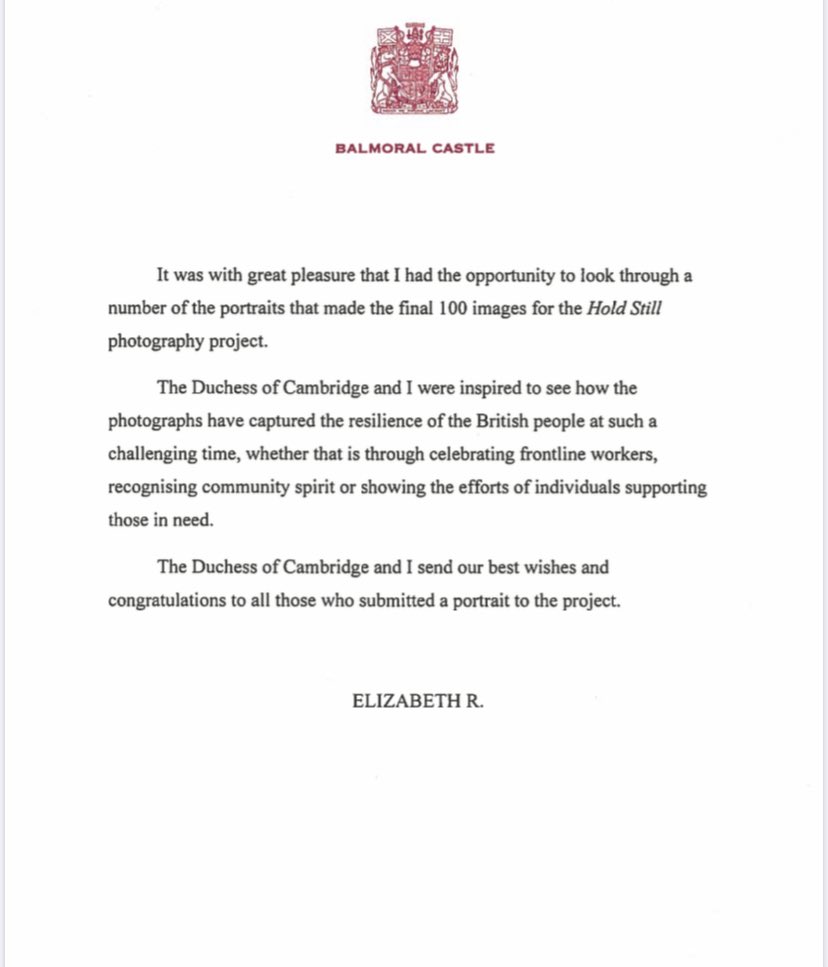 I wanted to take my time writing this post, I wanted to write something very powerful, very thoughtful. I can't seem to say much or find the right words for the impact that this digital exhibition has.
So, instead of making an attempt at eloquence, which will no doubt fall short of what the stories in this exhibit deserve, I am just going to post 5 images and their stories. If you want to view the entire exhibit, you can do so here : Hold Still 2020
Not sure why but this actually made me start singing "A Dream is a Wish Your Heart Makes"
4/100
RAINBOW REFLECTION
PORTRAIT BY
H. DE KLERK (AGED 14 YEARS)
HERTFORDSHIRE
A rainbow is an arch of colour, visible in the sky, caused by refraction and the reflection of the sun's rays on water droplets. Seven vibrant colours make up a rainbow and each one is unique. Rainbows have been placed in the nation's windows to show solidarity with those key workers who are putting themselves on the frontline while tackling the effects of Covid-19. Key worker jobs are varied, just like the vibrant colours in the rainbow. Each individual is unique but when we work together, we convey a message of inclusion, hope, promise and peace. Diversity is beautiful.
The lockdown period also provided the opportunity for people to slow down and reflect on life. It was a time for individuals to explore and examine how their perspectives, attitudes, experiences and actions all colour their thinking. Finally, rainbows are a symbol of promise and offer the hope that the troubles of today will pass – hold onto your faith, and time will bring fresh new beginnings!
67/100
OUR HERO'S SURPRISE RETURN!
PORTRAIT BY
JENNI NORFOLK
TITCHFIELD, HAMPSHIRE

Rory's daddy is a submariner for the Royal Navy and was sent away at the beginning of lockdown in March to quarantine on the submarine. Having been just Rory and Mummy for three months we were worried about the impact lockdown would have on his socialising and more importantly; would he remember Daddy? I think this photograph gives us the answer we were hoping for!
Looking at this photograph fills me with emotion. Proud of my husband who works so hard in defence of our country, happiness that the energy and time I put into raising my son alone despite this pandemic is producing a happy well rounded child, and total joy in the face of the beautiful child that we made together seeing his hero for the first time in so long. Life may have felt like it stopped for many but for our children every day is new and exciting and the arms of our parents will always be the safest place on Earth.
49/100
BEDTIME STORIES WITH GRANDMA
PORTRAIT BY
LAURA MACEY
TONGHAM, SURREY
The hardest thing during lockdown for my 4-year-old daughter, Isobel, was that she missed being read stories by her grandma, so every few nights her grandma read her a bedtime story via a video call until she drifted off to sleep, dreaming of when they will meet again. They have such a close bond so it was really lovely to see that they could still connect during lockdown as they missed each other so much.
68/100
I-SPY
PORTRAIT BY
RORY TRAPPE
BLAENAU FFESTINIOG, GWYNEDD
We could hear our grandson playing on the patio when I shouted up saying that we (both grandparents) were passing. He ran over to a gap in the patio glass to have a look to see if he could spot us. We laughed when we could see that he had muddy hands as he had been playing in the soil, which had just been put down for some newly planted bushes. I joked with my wife saying that he looked like a convict trying to escape from prison!
And then there is this one :
15/100
SHIELDING MILA
PORTRAIT BY
LYNDA SNEDDON
FALKIRK
We took the decision as a family to isolate Mila at home with myself in the week prior to lockdown. After trying to find an alternative solution we took the difficult decision to isolate in different households to protect Mila, who at this point was only 4 months into her chemotherapy journey for acute lymphoblastic leukaemia. As Mila's dad, Scott, had to continue to work and her big sister Jodi still attend school, we could not risk the possibility of infection being brought home, so they would visit every day at the window. At first Mila did not understand why Scott could not come inside, and would ask him 'why can't you come in Daddy?' This photograph was taken on the first day of separation. After seven weeks of temporary separation and after being furloughed from his job, Scott was reunited with Mila. Looking back, I'm so proud of my daughter and how far she has come, the level of resilience Mila has shown during this unprecedented time is truly remarkable.
When Chris Ship of ITV News talked to Mila about her photo she had this to say:
Don't forget that if you want to view the entire exhibit, you can do so here: Hold Still 2020