It just does not seem like it has been SIX YEARS.  Yep, six years ago today I got to experience how it works first hand.  The week prior I was notified that I was getting press credentials.  I would be a Royal Reporter when The Prince of Wales and Duchess of Cornwall visited Louisville, Kentucky in 2015.
Today when I woke up to Facebook reminders from the day, like the one below, I smiled.
That day was like everything I had covered for 3 years at that point and yet like NOTHING I had ever experienced.  I knew what I had to do.  I knew how to do it.  The article went live on the 22nd so I had time to get it just right.  I had time to pull in photo and video.  But doing it and doing it right took everything I had.  It changed forever the way I view royal reporters and photographers that I have now known for almost 10 years.  It also changed the way I viewed Her Royal Highness the Duchess of Cornwall.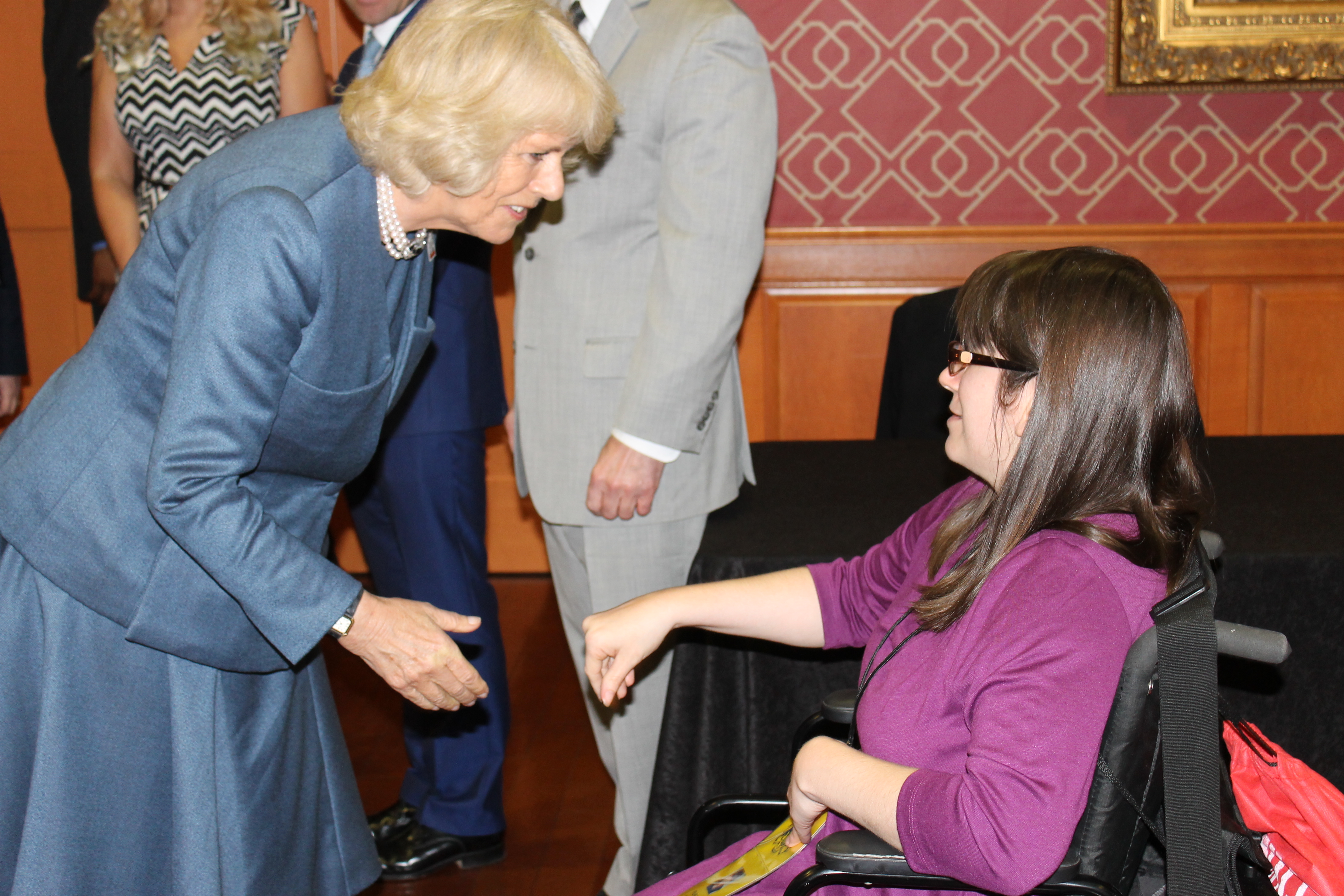 I thought I might share some memories that have stuck with me from the day.
Lots of Hurry Up and Wait
The welcome event was scheduled to begin at around 11am….if you had a press pass and had chosen to cover the start of the visit, you had to be there at 8am.  When my best friend and assistant for the day and I arrived the Kentucky Center for African American Heritage was buzzing. So many people were running around trying to get displays set up, others were trying to finalize the path by which the royal couple would enter the building. Turns out those doors would not open and in fact may never have been meant to open…oops. It's safe to say that gave me a giggle.  Their Royal HIghnesses were delayed by over two hours because of weather.  There was a point where not even my wheelchair was comfortable any longer.
Always wear flats and bring a jacket
The meeting space chosen for the symposium and the welcome remarks with the royal couple was COLD.  I mean teeth chattering cold.  Looking at video from the day, you see a moment where the cold air clearly gets to Her Royal Highness.  I only had the dress you see in the photo.   With the cold and rain I was really glad I had worn flats and skinny trousers under my dress.  I had a coat in the car but it didn't do me any good there.  Lisa, the friend who was acting as my assistant was so glad I made her switch to flats before we left the house.
Read it All, Research it ALL
One thing I was not prepared for was the fact that I would find out about all ten, yes TEN, stops that either or both of Their Royal Highnesses would make BEFORE I would find out what I had been granted access to cover.  As a result I had to read everything and fully research everything.  In some ways the reading and research I had to do was just like what I do for every engagement  This allowed me to get the order of events sketched out before the day got going.
It was during this stage that I realized just how little I understood distance and traffic in this city.  Thankfully, Lisa knew how long it would take for the Duchess to get from Oxmoor Farms to Churchill Downs even with the lights and sirens of a motorcade.
Lisa knowing traffic and distance better than I do meant we had time to grab a snack, and drop something off at her full-time real estate job   I only got nervous when I saw a motorcade zoom past the office and that is the instant I called Lisa and told her to get back to the car.

Be Prepared for ANYTHING
As a Royal Reporter you have to be prepared for anything.  I know, this should be a no brainer.  Everything with the British Royal Family and the British Press seems so well choreographed.  But the truth is, I forgot about the effect my wheelchair can have on people.  I covered the welcome event and the visit the Duchess made to Churchill Downs.  There were fixed positions for the media at both locations.  Despite these locations, I seemed to be allowed to wander just about anywhere I pleased.  Because of that, I never was hemmed in with the rest of the press and I never got a chance to meet the other members of the royal press pack that would have made me lose my cool.
When we got to Churchill Downs we were cutting it a bit close.  I knew we'd most likely be okay as long as we'd managed to arrive before Her Royal Highness.  When we walked in and showed our press badges, I thought we'd be taken out to the Paddock area, but instead we were whisked upstairs to what I was sure was meant to be a private reception.  Roll with it.
It was just outside the reception room where Her Royal Highness met with some Staff of  Brooke USA and where my friend whispered "you're people too" in my ear as she shoved my chair forward and Her Royal Highness took my handshake and said "Hello, nice to meet you" (I think, that part really still is a blur, I know I literally got choked trying to say the words Your Royal Highness).  Camilla was kind and patient waiting for my response.
It Takes Time, but the Way you View Someone CAN Change
This has to do with my own observations, but also with a conversation I had while waiting for Their Royal Highnesses to arrive.
Let's start with the conversation.  I was seated near the back and  The Prince of Wales and Duchess of Cornwall were FINALLY on the property.  We could hear the marching band outside, and the Youth Performing Arts School Choir were warming up, we'd gotten the briefing about what to do and not to do.
As we sat for a few more minutes, the lady in front of me was asking the man next to her why the titles used are different.  She turned around and noticed my press pass.  She must have figured any reporter would know the answer, so she asked.  I quickly explained that Her Royal Highness IS IN FACT the Princess of Wales, but that the title was so inextricably intertwined with Diana.  I also told her that Camilla was no fool.  I explained that, to avoid any worsening of public sentiment at the time of their marriage, it was decided that Camilla would use Charles' next highest title, that of the Dukedom of Cornwall.
I was one of those people who did not want to like the Duchess of Cornwall, I did not like her here or there, I did not like her anywhere.  But then I spent a day watching her up close.  I saw how hard she worked and how she treated all of those around her.  I watched how she paid attention to details as small as a supporters pin and as large as making sure that she still kept every engagement .  I watched how she treated those she had planned to meet, the reporters, and even her security staff.  It wasn't respect out of fear that I saw.  It was an earned respect.
Diana may forever be the Princess of Wales to the entire world, but I know that one day Camilla will be a wonderful support to HIs Majesty King Charles III, She will be wonderful in this role, regardless of which title she decides to use when the time comes.