I wanted to let everyone know that the extremely talented Alex at Alexandra Rose Illustration has released a gorgeous new print that I am sure you are going to want to own.
It all started with this tweet on 11 June.
As it's #TroopingtheColour tomorrow, I thought I'd share this drawing I did of the Duchess of Cambridge in one of my favourite looks of hers (from 2018). Beautiful hat by @julesmillinery & earrings by @kikimcdonough #DuchessofCambridge #RoyalFamily @KensingtonRoyal 💎💙🤍 pic.twitter.com/RCetgevtfV

— Alexandra Rose Illustration 💙 (@lexandraroseart) June 11, 2021
True to form, and understandably, Royal Watchers and Cambridge fans were in love.
At that point she began the process of seeing if there was a way she could add this to the offerings in her online shop.
Today, I got a message letting me know that the print is available to purchase.  I think it would look just lovely in an upcoming massive redesign of my room.  So beautiful and calming.  It also has a special place in my heart as 2018 was the year I was able to attend Trooping the Colour and see Catherine in that beautiful ensemble standing on the balcony of Buckingham Palace.
You may also be interested to learn that you may have already seen some of Alex's other works.  If you saw the story about the Fitzwilliam Museum that features masterpieces reimagined with facemasks, you've seen how talented she is.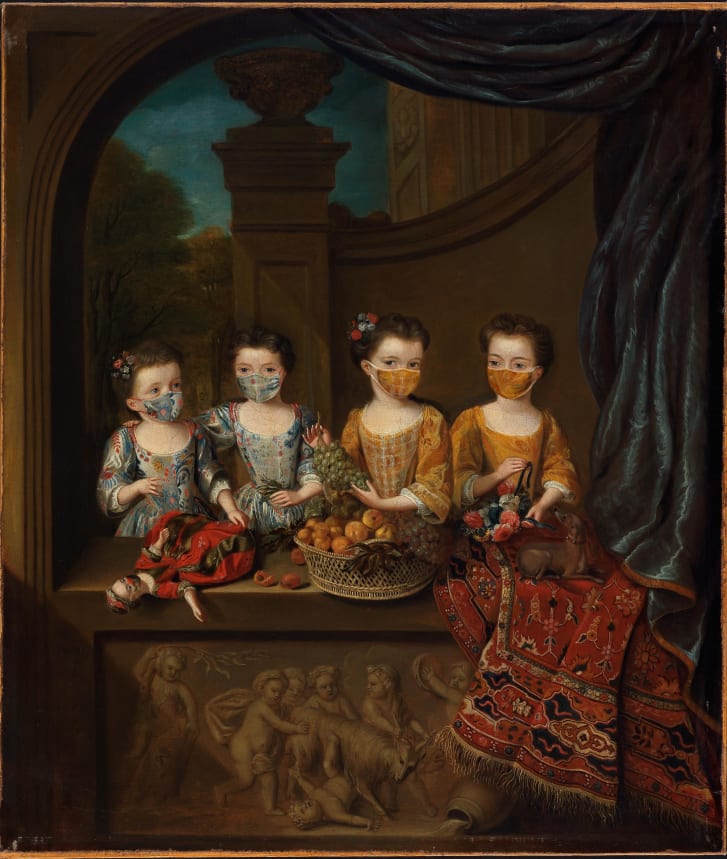 I think this one is my favorite of those.