The saying is Like Father, Like Son…but my father only has daughters.   So…Like Father, Like Daughter will have to do.
My grandfather passed away in November of 2017.  My Grandfather loved to paint and loved photography.  To paint, my grandfather used 35mm slide film and a contraption he called his "Magic Marker".  As a result of his love of photography and his use of slide film for decades, we have bankers boxes full of slides.  Yes, multiple, no I am not kidding.
My father has recently begun the process of digitizing some of the slides (for some reason he doesn't want to do all the flowers and sunsets or landscapes….)
I have been receiving random texts the last few day with photos of relatives I had never seen, and he even treated me to a few from his 1970 trip to London.
Today we had this text exchange
I realized very quickly that our shots were so similar that dad and I could well have been stood in the same spot to take these photos.  I rang him up on FaceTime and the dual-screen comparisons and examinations began.
Soon, I was getting teary.  Yes, I cry really easy.  I'm wired that way.
The Photo Comparisons:
Here is a look at the shot my father took: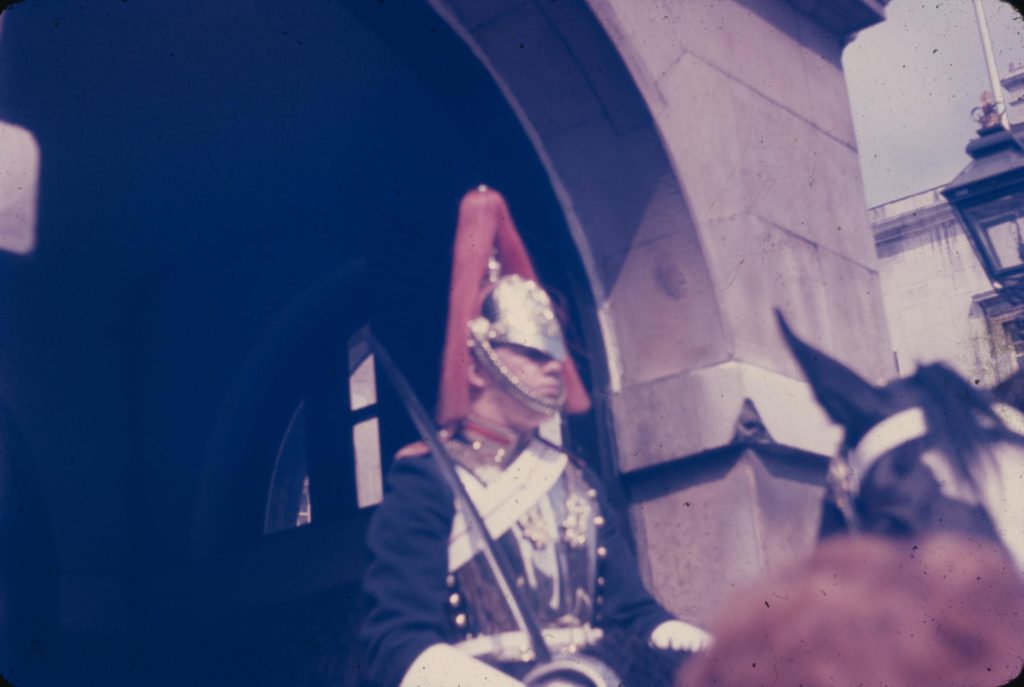 And here is a look at the photo I took for a friend as we walked past the Horseguards Parade Ground on the Thursday of my visit to London nearly 48 years later.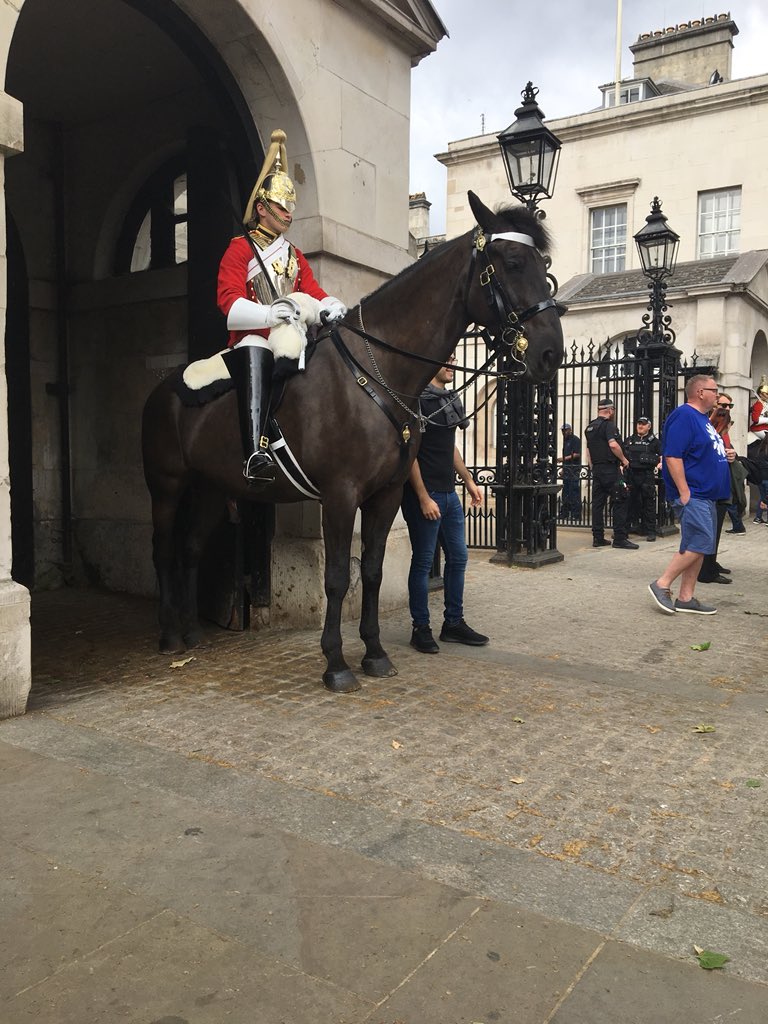 Now, would you like to see what made me teary?
See that worn spot in the corner?  Just by the soldier's shoulder?  THE SAME CORNER  is chipped in my father's photo.  And if you look carefully, you can see that at some point in the last 48 years a stone mason replaced both sides of that corner.  Look at both photos, you can see mortar lines where it was once a solid stone.
Dad and I were really surprised that we had each stood at that very spot.  That's when it hit me and I reminded him of something my grandfather told me.
Granddaddy's Story
My Grandfather was a scientist, like a you don't want to mess with what he was working on, but you want it to work every time scientist.
Grandpa had a theory that whenever you went somewhere you left particles of yourself there.  The second part to this theory may prove to be more important.  The second part to the theory is that if you ever return your particles "recognize you" and make you feel comfortable and like you belong.
The only place i ever felt "felt like home" besides my home was the home my grandparents built on Lake Tuscaloosa.
That is  until I visited London for the first time.  The whole city feels like home.  I knew it could not be my particles saying "welcome back, we missed you". Mom's particles at Westminster Central Hall.  Grandma's and Aunt Clara's particles at Buckingham Palace.  Dad's Particles at the Horseguards Parade Ground.  The particles  of family and friends made me feel like I belonged.
I will carry many of those people in my heart with me every time I visit London.