The Duke and Duchess of Cambridge were in Cambridgeshire today for the first annual Cambridgeshire County Day.  They carried out a series of engagements that highlighted charities in the area as well as .  They also had a surprise in store for us.  The Duke and Duchess attended the unveiling of their first official joint portrait.
The Duke and Duchess visited the Fitzwilliam Museum for the unveiling of the portrait. They visited Jimmy's, ten years after their first visit, to see the work they are doing to support those experiencing homelessness.  They even visited the Newmarket Racecourse, which was hosting the first annual Cambridgeshire County Day.
The couple made one more stop today.  It was my favorite stop of the day.  The Duke and Duchess of Cambridge made a stop at the Milton facility of East Anglia's Children's Hospices.  You know how I feel about East Anglia's Children's Hospices and they work they do.  Don't mind me over here doing a Hamster Dance in my chair.  I am so happy I hardly have the words.
Since I have a separate article about the portrait, I am going to allow this article to focus on the visit to East Anglia's Children's Hospices.
About the Visit
This was The Duchess's first public visit to the hospice in Milton.  I am so excited that The Duke has finally been able to see for himself the work that EACH does.  Catherine gave her first speech at EACH in 2012 and mentioned at the time that she wished William could have joined her to see their work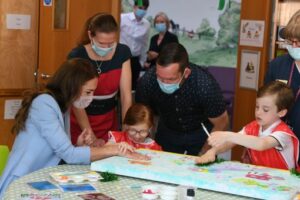 The Duke and Duchess toured the hospice, which was opened by Diana Princess of Wales on 1st August 1989.  They met with children, young people and families who use services through EACH. Both the Duke and Duchess were invited to take part in art activities with families.  The Royal couple also toured the hospice grounds and met long-term staff members and volunteers.
WHAT East Anglia's Children's Hospices had to say
EACH Chief Executive Phil Gormley said: "We very much enjoyed welcoming Their Royal Highnesses to Milton. It was The Duchess's first public visit to Milton and the very first time we had the pleasure of welcoming The Duke to one of our hospices so it was a very special, memorable and momentous day for everyone connected with EACH.
"The visit was the perfect opportunity to celebrate ten years since Her Royal Highness became our Royal Patron. Throughout the decade, The Duchess has been immensely supportive by championing our cause. Her continued support comes with warmth, empathy and understanding, including beyond public view, and her Patronage is enjoyed and appreciated by everyone at EACH.
"We are extremely thankful and consider ourselves honoured and very lucky  to benefit from her hard work, generosity and support."
Since becoming Royal Patron in 2012, The Duchess of Cambridge has played a vital role in raising awareness and understanding of children's hospice services across East Anglia and the rest of the UK. From hospice and shop openings to meeting children and families, The Duchess's profile has projected EACH and the importance of children's hospice services onto a national and international stage.
A Petite Princess's Platinum Jubilee Fundraiser to Benefit Children's Hospices
We have set up a shop on A Petite Princess where you can purchase limited edition t-shirts, sweatshirts, hoodies, and tote bags, whose proceeds will be split evenly among the facilities that each organization has. There are 10 facilities total,so for every £10 in profits each facility will receive £1). If you would prefer to donate to a chosen organization directly, you may also do that via the links in the shop that has been set up. Current fundraising targets on the donation pages represent the amount needed to provided services for 24 hours at each organization. These targets are accurate as of 25 January 2022
Support a Charity. Celebrate the work of a favorite Royal. Choose a product. Any way you make the decision, kids with life-limiting conditions will be the ones to benefit.
About her Outfit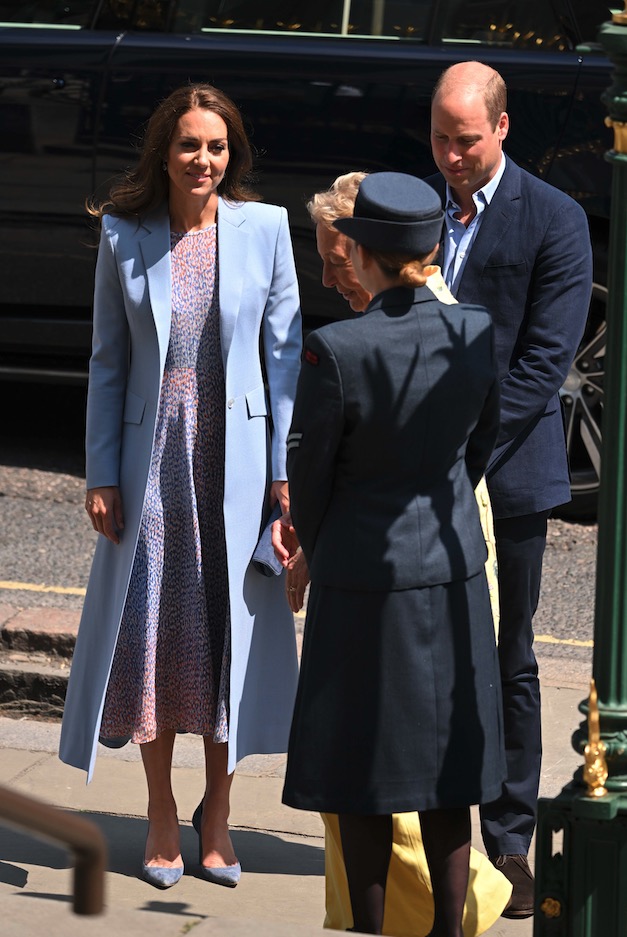 Kate's Coat today is as yet unidentified.
Kate's Dress today was the LK Bennett Madison in the lilac colorway…we've seen her wear it in pink at Polo and she was spotted in the blue on an evening out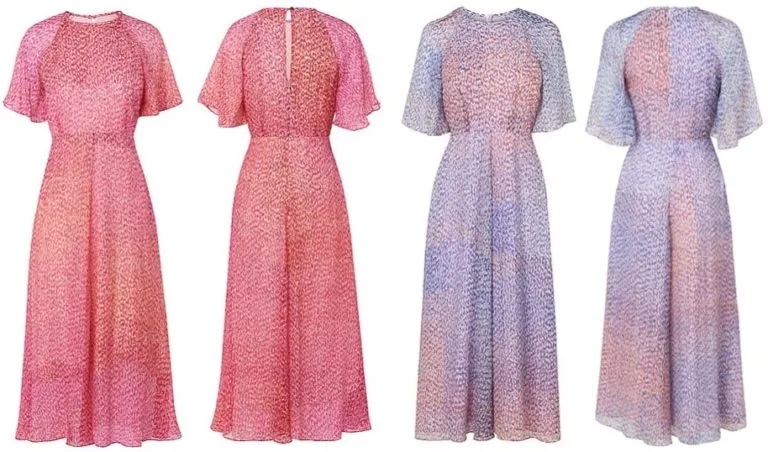 She wore her Emmy London Rebecca Pumps and Natasha Clutch in the Riviera colorway.