In Thursday night's Court Circular there was a note saying that the Duchess of Cambridge, in her role as Royal Patron, visited The Nook. The Nook is one of three hospice facilities run by East Anglia's Children's Hospices. The Nook is the closest facility to the Cambridge family country home Anmer Hall.
This visit comes just days after we saw a video call with the Duchess of Cornwall and the Duchess of Cambridge to mark the start of Children's Hospice Week 2020.
The Duchess laughed and seemed to enjoy herself while working on the garden saying that she was making quite the mess.
Catherine helped to plant a new Garden using some of the plants she picked up on her recent trip to a gardening center.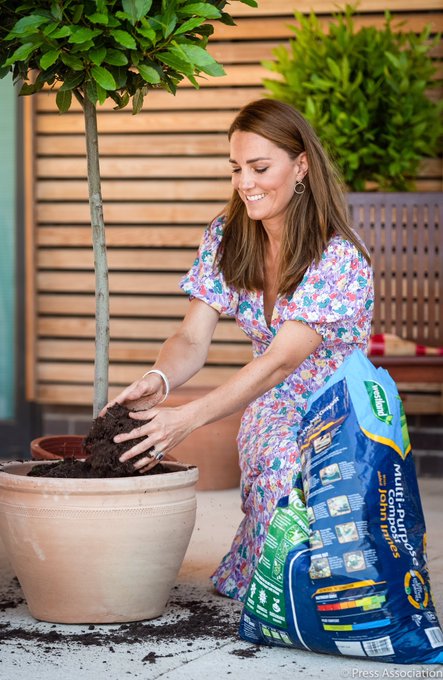 During the visit the Duchess planted a sunflower just as she had promised she would when talking with a family helped by EACH on that video call.

The Duchess took time to visit with several families during her visit
At the beginning of the week EACH made it clear to supporters that during the lockdowns due to COVID-19, they experienced a shortfall of £100,000 a week while charity shops were shut down and large-scale in-person fundraisers could not take place. As I heard this news I raced to do anything I could to help. As a result, I set up THIS FUNDRAISER…if you could share or donate it would be greatly appreciated.
A QUICK LOOK AT CATHERINE'S OUTFIT